Products & Services
Residential
Commercial
Satisfied Clients
Commercial Clients
Repeat Clients
Our 'Epoxy & Stone Concrete Resurfacing' clients often request our services again at their new homes after they move.
Request References
Concrete Resurfacing with Epoxy & Stone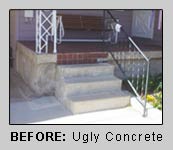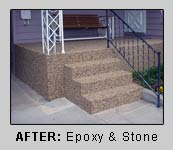 What is Epoxy and Stone?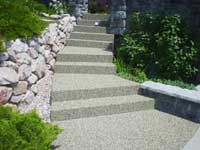 Epoxy and stone is a decorative concrete overlay design as an alternative for tearing out and replacing concrete.
Epoxy and Stone Applications
Most existing concrete surfaces can be resurfaced with epoxy and stone, including: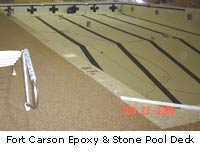 Driveways
Walkways
Patios
Stoops
Pool decks
Garage floors
Cover up ugly concrete
Benefits of Epoxy and Stone
Epoxy and stone concrete resurfacing is less expensive to install than tearing out and replacing existing concrete.
Because we carry so many colors, epoxy and stone will enhance and beautify any entrance, patio, or driveway.
Additional benefits of epoxy and stone concrete resurfacing:
Cost effective
Enhances & beautifies home
Painless installation
Reduces ice build-up
Easy snow removal
Easily repaired
Simple maintenance
---
About Kreative Resurfacing
Local Colorado owners - serving Colorado's front range, including Colorado Springs, Pueblo, and Tri-Lakes/Black Forest area
Family-owned
Factory-trained
Experienced - Since 1985
Insured
Read more About Us >